reading Claude: The True Story of a White Alligator, the story of the California Academy of Sciences' beloved albino alligator, from his birth in Louisiana to his present day life in his swamp at the Academy.
"A celebration of individuality and the joy in finding those who appreciate you for exactly who you are.--Booklist
Join us on Instagram IGTV. Follow along @MRSDALLOWAYS. Videos disappear after 24 hours so be sure to watch!
Saturday, November 14, 2020 - 11:00am

Claude is a celebrity alligator and the mascot for San Francisco's California Academy of Sciences. His story started almost 25 years ago in Louisiana, where he hatched out of his egg to discover he looked different from the other hatchlings. They were green and Claude was white. The other hatchings avoided him, and his color made him vulnerable to predators. Claude's odyssey to find a welcoming home and the story of the other alligators' adaptations make for a wonderful story about difference.

Emma Bland Smith is a librarian and award-winning author of children's fiction and nonfiction. Many of her books feature real-life animals--wolves, dogs, pigs, and alligators. Shelives in San Francisco with her family, which includes a dog and a cat (but no alligator). Visit her online at EmmaBSmith.com.


Illustrator Jennifer Potter also lives in San Francisco.She has visited Claude many times, and is thrilled he agreed to let her draw him.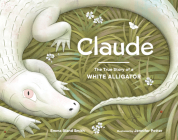 $18.99
ISBN: 9781632172693
Availability: Most titles are on our shelves or available within 1-5 days.
Published: Little Bigfoot - August 4th, 2020
---