Join us for a special pajama party with local author Mitali Perkins and her dog to celebrate the launch of Mitali's new picture book, Home is in Between! Bring your pet or favorite stuffy and cozy up for a virtual bedtime story.
This event will take place live on Crowdcast. Pre-registration required. Click here to save your spot.
Pre-order signed copies of Home Is In Between
Book is recommended for ages 3-7. See you there!
Tuesday, February 23, 2021 - 7:00pm
Shanti misses the warm monsoon rains in India. Now in America, she watches fall leaves fly past her feet.
Still, her family's apartment feels like a village: Mama cooking luchi, funny stories in Bangla, and Baba's big laugh. But outside, everything is different - trick-or-treating, ballet class, and English books.
Back and forth, Shanti trudges between her two worlds. She remembers her village and learns her new town. She watches Bollywood movies at home and Hollywood movies with her friends. She is Indian. She is also American. How should she define home?
Mitali Perkins has written several books for young readers, including Between Us and Abuela, Forward Me Back to You, You Bring the Distant Near (a National Book Award Nominee, a Walter Honor Book, a South Asia Book Award Winner, a Publishers Weekly Best Book of the Year, and a Shelf Awareness 2017 Best Book of the Year), Rickshaw Girl (a NYPL Top 100 Book), and Bamboo People (an ALA Top 10 YA novel). Mitali was born in India and currently resides in Northern California.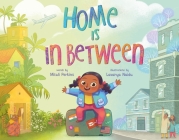 $19.99

ISBN: 9780374303679
Availability: Most titles are on our shelves or available within 1-5 days.
Published: Farrar, Straus and Giroux (BYR) - February 23rd, 2021
---