Local contributors to New Expressions in Origami: Masterworks from 25 Leading Paper Artists present a beautiful overview of the most outstanding paper craft being made in the world today.
"What if we told you the Asian technique associated with mundane paper cranes and childish cootie catchers can also transform a single sheet of paper into a lifelike relief portrait or an M.C. Escher-esque form? Or twist pages of religious texts into an artful political statement? These are just some of the implausible projects featured in Meher McArthur's New Expressions in Origami Art: Masterworks from 25 Leading Paper Artists."--The Wall Street Journal
Tuesday, May 2, 2017 - 7:00pm
These master folders are pushing the boundaries of origami vigorously in new directions in terms of style, scale, materials, subject and scope.
The stunning photos and brilliant essays in this book demonstrate why origami is now an international art movement--largely through the efforts and artistic genius of a few contemporary masters. The trailblazing efforts of Japanese artist Akira Yoshizawa elevated the paper folding to an artform by showing how subtle shapes and figures could be created from a single sheet of paper though a variety of non-traditional folding techniques.
Artists in other parts of the world--including the United States, France, England, China and Scandinavia--took Yoshizawa's cue and pushed these techniques further and further. The result has been the emergence of many new and surprising sculptural forms created through techniques such as wet folding, curved creasing, tessellating and the application of alternative materials besides paper.
Robert Lang, author of the Foreword, is one of the most respected of all the masters curently creating origami art. He has a background in electrical engineering and applied physics from Stanford and the California Institute of Technology, laser physics at NASA's Jet Propulsion Lab in Pasadena, and Spectra Diode Labs and JDS Uniphase in Silicon Valley. In 2001, after more than thirty years of studying origami on the side, Lang gave up his day job to focus on both the art and science of origami. Now, as a professional origami artist, he lectures, writes books and articles, and consults with companies about folding applications inmedicine, car airbag design, and space exploration.
Through origami, Bernie Peyton has been able to bring together the two passions of his life--art making and wildlife conservation. He began his career as a painter and print maker. After traveling in the wilderness, he changed direction and trained and worked as an environmental biologist, studying and attempting to help endangered species, nost notably spectacled bears in Peru. Ten years ago he retired as a biologist and returned to art, now applying his skills to designing the creatures he spent years studying.
The centuries-old practice of folding paper cranes inspired Linda Mihara to create soome of her most well-known works of contemporary origami art. She is a third-generation Japanese American who learned the art of origami around the age of five from her parents and grandparents. Her grandfather, Tokinobu Mihara, wrote the book Origami: Japanese Art of Paper Folding (Volues 1 and 2) in 1958, the first books about origami to be published in English in the United States.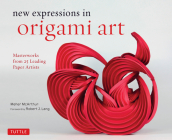 $29.95
ISBN: 9780804846776
Availability: Most titles are on our shelves or avaialble within 1-2 days
Published: Tuttle Publishing - February 28th, 2017
---