Reading Ruby's Reunion Day Dinner, a joyful picture book that taps into the rich African American tradition of family reunions, with delicious food at the heart of the celebration.
On Here Wee Read's 2021 Ultimate List of Diverse Children's Books
Be sure to watch within 24 hours of the broadcast before the video disappears!
Saturday, May 22, 2021 - 11:00am
Once a year, each of Ruby's relatives prepares a special dish to share at their family reunion. Daddy calls it their "signature dish"--and Ruby wants one of her own. She wanders through the bustling kitchen looking for inspiration. As she watches Pop-Pop's chicken sizzling in the skillet, Uncle G slicing onions, and Auntie Billie cooking corn on the hot grill, she wonders if she's just too young to have a signature dish. That's when she finds it-- the perfect solution!
Angela Dalton's warm text is perfectly paired with Jestenia Southerland's beautiful art in this sweet picture book, filled with the tenderness and warmth of this multigenerational extended family and the food they share.
Angela Dalton is a children's book author living in Oakland. She likes trying new recipes and hopes to one day create her signature dish. Her first book is If You Look Up to the Sky. Visit her online at www.angeladalton.com.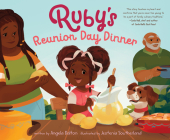 $17.99
ISBN: 9780063015746
Availability: Coming Soon - Available for Pre-Order Now
Published: HarperCollins - May 18th, 2021
---