Reading Watercress, a Junior Library Guild Gold Standard Selection.
"Through powerful poetry and exquisite illustrations, the daughter of immigrants relates an emotional childhood memory that opened the door to her Chinese roots."--Shelf Awareness, starred review
Be sure to watch the video within 24 hours of the broadcast before it disappears!
Saturday, May 8, 2021 - 11:00am
Driving through Ohio in an old Pontiac, a young girl's parents stop suddenly when they spot watercress growing wild in a ditch by the side of the road. Grabbing an old paper bag and some rusty scissors, the whole family wades into the muck to collect as much of the muddy, snail covered watercress as they can.
At first, she's embarrassed. Why can't her family get food from the grocery store? But when her mother shares a story of her family's time in China, the girl learns to appreciate the fresh food they foraged. Together, they make a new memory of watercress.
Wang tells a moving autobiographical story of a child of immigrants discovering and connecting with her heritage, illustrated by award winning author and artist Jason Chin, working in an entirely new style, inspired by Chinese painting techniques. An author's note in the back shares Andrea's childhood experience with her parents.
Andrea Wang is the award-winning author of The Nian Monster and Magic Ramen. She holds an M.S. in Environmental Science and an M.F.A. in Creative Writing for Young People. She lives in Colorado with her family.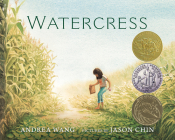 $18.99
ISBN: 9780823446247
Availability: Most titles are on our shelves or available within 1-5 days.
Published: Neal Porter Books - March 30th, 2021
---