Chirri & Chirra, on the Town (Hardcover)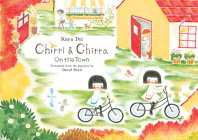 $16.95
Most titles are on our shelves or available within 1-5 days.
Description
---
In this fifth book of perhaps the most charming series ever, Chirri and Chirra venture down forest paths and through alleyways into a yarn shop and an old woman's house, where they enjoy hot drinks and soup. When they're done, they find a wonderful surprise hidden in the branches of a tree. Memorable for Doi's luminous appreciation of the natural world as well as her respect for beautiful edibles, this new installment is sure to delight.
About the Author
---
Born in Tokyo, Japan, Kaya Doi graduated with a degree in design from Tokyo Zokei University. She got her start in picture books by attending the Atosaki Juku Workshop, held at a Tokyo bookshop specializing in children's books. Since then she has created many picture books featuring her delicate color-pencil drawings. She lives in Chiba Prefecture and maintains a strong interest in environmental and animal welfare issues. Since the earthquake of 2011 she has been active in recovery and shelter efforts for abandoned pets. David Boyd holds a master's degree from the University of Tokyo and is currently a Ph.D. candidate at Princeton University. His translations have appeared in Monkey Business International, Granta, and Words Without Borders, among other publications.