You Know Exactly, the Third Collection of All Over Coffee (Hardcover)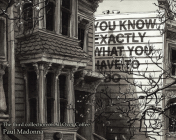 $34.99

Most titles are on our shelves or available within 1-5 days.
Description
---
The third and final volume of All Over Coffee presents some of the most beloved and never-before-collected pieces from the weekly series. Originally published in the San Francisco Chronicle, this timeless work, which includes collaborations with many prize-winning authors, is now collected for the first time into a new gorgeous hardcover edition.
" Paul] Madonna, Bayview-based artist, illustrator, writer and award-winning author, is renowned for his long-running city-inspired comic strip series 'All Over Coffee.' Once described by Madonna as 'a comic strip without the comic, ' the series paired intricate sketches of The City--a street corner, a view of Alcatraz or a deserted alleyway--with poignant, poetic text. The infusion of art and literature challenged typical comic strip conventions, attracting a regional cult following and setting Madonna on a path of artistic discovery. The third and final installment of the series], You Know Exactly, launched this month."
--San Francisco Examiner
"All Over Coffee was in many ways a gift to the city. It immortalized the San Francisco that locals see every day; not the one most commonly depicted in movies and on TV. Because of its grounding in familiar corners, sidewalks and liquor stores, Madonna's art can also ask viewers to explore their own psyche, or to suspend their disbelief, or to go on a journey with him they weren't expecting. And sometimes, just sometimes, it'll be so close to home, you'll think he's made a personal visit."
--KQED Arts & Culture
" A]n impressive coffee-table style volume, You Know Exactly, the Third Collection of All Over Coffee is an inherently fascinating book to browse through."
--Midwest Book Review
You Know Exactly enigmatically melds art, story, and travel to capture the profundity reflected outside and resting deep within the soul. With original writings plus collaborations with award-winning writers including Lawrence Ferlinghetti, Cheryl Strayed, Andrew Sean Greer, Robert Olen Butler, Kristen Tracy, Daniel Handler (otherwise known as Lemony Snicket), and more, artist and writer Paul Madonna pairs words with exquisitely rendered cityscapes to create a poignant, thought-provoking showpiece. Each page offers something unique: short stories, poems, fleeting thoughts, and one-liners displayed alongside pen and ink drawings that travel from San Francisco to New York, from Paris to Tokyo. The effect coalesces into a mesmerizing work that you'll want to return to again and again.