Montana's Hot Springs (Postcards of America) (Loose Leaf)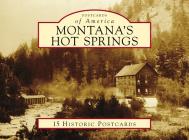 $7.99
Email or call for price.
Description
---
Captured in this collection of mailable vintage-photograph postcards, Montana's hot springs and hot water resorts bubble with fascinating histories of medical cures, Native American legends, glittering spas, and isolated wilderness soaks. These Montana hot springs provided soothing cures for the aches and pains of Native Americans and early Montana pioneers. A few of the crude bathhouses built by miners and settlers gave way to ornate bathing resorts, replete with some of the most elegant furnishings and facilities available between Minneapolis and San Francisco, from the 1890s through the 1920s. Grand hot springs resorts--including Corwin Hot Springs, Boulder Hot Springs, Hunter's Hot Springs, and Broadwater Hot Springs--flourished and then faded from Montana's landscape.