Lost Resorts of the Iowa Great Lakes (Postcards of America) (Loose Leaf)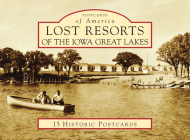 $7.99
Email or call for price.
Description
---
Travel back in time with this nostalgic collection of mailable vintage-postcard photographs. Since the first rustic vacation retreat for hunters and fishermen was built in 1871, Okoboji and the Iowa Great Lakes have been a drawing card for families, generation after generation. Over the decades, dozens of vacation resorts, from the magnificent Hotel Orleans on Big Spirit Lake to the iconic Inn on West Okoboji, have lured happy summertime visitors. Just mentioning the name of a resort often evokes memories of swimming, boating, fishing, waterskiing, or just good times spent with friends and family. However, most of these vacation resorts are now gone--The Inn, Manhattan Beach Hotel, Templar Park, and Crandall's Lodge have all been demolished. Vacation Village has become Village West, and the Crescent Beach resort, which at one time boasted over 100 apartments or cottages, now has fewer than 30 motel-style units. Gone too are dozens of friendly mom-and-pop cottage resorts all around the lakes, replaced by condominiums and private residences.