The Farmer (Hardcover)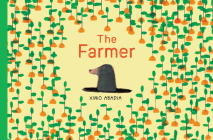 $17.99
Most titles are on our shelves or available within 1-5 days.
Description
---
A farmer's hard work is rewarded in this eco-friendly and elegantly illustrated picture book.

A New York Times/New York Public Library Best Illustrated Book of the Year!

In the town, everyone is sleeping. But not Paul.

Paul mows. Paul rakes. Paul sows. Paul draws water. And soon Paul has beautiful plants and flowers growing all around him. But one day, the water dries up. The sun beats down. Paul despairs. But thanks to his animal friends, and a bit of rain, help is on the way . . .

Filled with vivid illustrations of Paul's hard work, the brilliant blooms that begin to grow, and the scorching sun that threatens to ruin his crops, The Farmer is a gentle story emphasizing the importance of perseverance-- and the value of good friends.


Named to the USBBY Outstanding International Books List
About the Author
---
Ximo Abadia is a Spanish author and illustrator of children's books, graphic novels, and comics.  He was a finalist for the Golden Pinwheel Young Illustrator Competition. Ximo's magazine covers, editorial art, and work in advertising are familiar throughout Europe. His clients include Templar, SM, Edelvives, Sins Entido, Impedimenta, Flamboyant, Free Will, Diabolo, Tribe, Dibbuks, TTT, Takatuka, El Español, Malpensante, Sixth Floor, Panenka Magazine, and The Tide.
Praise For…
---
"A gorgeous picture book with a message that will resonate with young readers."—School Library Journal

"[Abadia's] naïve compositions convey a winsome bemusement that never mocks . . . . Gentle humor is visual, as when a succession of Pauls peer from a series of mole holes. Compositions, all done on yellow paper, are striking: Mirroring the spread with the enormous sun is an equally mammoth moon that silhouettes Paul's tiny house; in another, Paul stands level with the bottom of the dry well looking up, the bucket resting in futility at the bottom of the aquifer. Charmingly unassuming, rather like Paul himself."—Kirkus Reviews