Instant Paper Airplanes Kit: 12 Pop-Out Airplanes You Tape Together and Fly in Minutes! [12 Precut Pop-Out Airplanes; Slingshot Launcher, Tape & Fu (Other)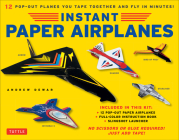 $14.99

Most titles are on our shelves or available within 1-5 days.
Description
---
Prepare for takeoff
With this new collection of high-performance paper airplane models from master designer Andrew Dewar, paper planes are easier to make and fly than ever before.
Everything prospective aviators need is included in this paper airplane kit:
12 pop-out paper planes
A full-color instruction book
Super-charged slingshot launcher
The instruction book provides tips on tuning the aerodynamics of each model for even better performance. Plus, these planes can be assembled in under a minute, no glue or scissors required--instant gratification for airplane buffs of every age These are just a few of the amazing aircraft you can build:
The Tritium--a Battlestar Galactica-inspired space plane whose launch velocity is matched by its speed of assembly
The Flying Squid, which resembles its tentacled namesake--and doesn't even look like it can fly, although it truly soars
The Invisible X--whose sleek profile looks like a cross between the B-2 stealth bomber and the F-22 Raptor fighter.
And many more
Use the paper airplane launcher to send your creations above the treetops, and watch with your friends as they glide gracefully back down to earth. A truly incredible sight to behold.
About the Author
---
Andrew Dewar was born in Toronto, Ontario, and graduated from Ryerson Polytechnic Institute (B.A. Journalism) and University of Toronto (M.A. Japanese Studies, Library and Information Science) before moving to Japan in 1988. After completing doctoral studies in library science at Keio University, he joined the faculty of a junior college in Japan. Soon after arriving in Japan he rediscovered his childhood love of assembling paper crafts, folding origami and designing and flying paper airplanes. His passion for paper airplanes led him to become president of the Fukushima Paper Airplane Club. Dewar has published over 30 paper crafting books and kits. He also teaches paper airplane workshops and does seminars at schools, libraries, community centers, and museums. He lived and taught library science in Fukushima, Japan, until the giant earthquake and nuclear accident in March 2011, when the city became unsafe. After a brief stay in Canada, he's returned with his family to Gifu, Japan.