Rescue and Jessica: A Life-Changing Friendship (Hardcover)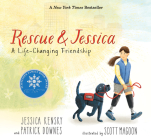 $17.99

Most titles are on our shelves or available within 1-5 days.
Description
---
A 2019 Schneider Family Book Award Winner

Based on a real-life partnership, the heartening story of the love and teamwork between a girl and her service dog will illuminate and inspire.

Rescue thought he'd grow up to be a Seeing Eye dog — it's the family business, after all. When he gets the news that he's better suited to being a service dog, he's worried that he's not up to the task. Then he meets Jessica, a girl whose life is turning out differently than the way she'd imagined it, too. Now Jessica needs Rescue by her side to help her accomplish everyday tasks. And it turns out that Rescue can help Jessica see after all: a way forward, together, one step at a time. An endnote from the authors tells more about the training and extraordinary abilities of service dogs, particularly their real-life best friend and black lab, Rescue.
About the Author
---
Jessica Kensky and Patrick Downes are a married couple who were both injured during the Boston Marathon bombing in 2013. Jessica's service dog, Rescue, joined their family in 2014. Jessica Kensky and Patrick Downes live in Cambridge, Massachusetts.

Scott Magoon has been designing, writing, and illustrating books for young readers since 2003. He lives in Reading, Massachusetts.
Praise For…
---
This sensitively told version—written with her husband, who also lost a leg in the bombing—highlights her relationship with the gallant Rescue.
—The New York Times Book Review

This riveting story about the relationship between a disabled girl and her black lab service dog is based loosely on Kensky's own experiences as a double amputee...Throughout, the reader is treated to fascinating details on the many tasks service dogs can accomplish and, more important, how Jessica and Rescue saved each other. An inspiring tale of compassion and perseverance.
—Booklist (starred review)

Magoon's digital illustrations are a lovely accompaniment to the text, providing rich detail to the spare story, and the scenes of Jessica and Rescue playing and working with the Boston skyline as a backdrop only add to the poignancy. ­This is a strong selection for any collection, and stories about working dogs never get old; this will be appreciated and enjoyed by a wide variety of young people.
—School Library Journal

Magoon uses dark backgrounds to symbolize Jessica's sadness and fear, but scenes with Rescue are open and bright; with Rescue nearby, even the night after her second amputation is lightened (via lamplight and stars). An authors' note reveals that both are survivors of the 2013 Boston Marathon bombing and includes information on National Education for Assistance Dog Services, the organization that trained Rescue. A gentle introduction to service dogs and acquired disability.
—Kirkus Reviews

The quiet and stirring text pairs beautifully with the art, which uses color and white space to convey time, meaning, and emotion with great effect...In the main text, Jessica's injuries are not explained; the story instead focuses on the power and comfort that comes from her relationship with her service dog.
—The Horn Book

Kensky and Downes streamline their character's medical ordeal and her process of learning to walk again, highlighting the moments of quiet victory as well as those of despair. Magoon's (I Have a Balloon) realistic digital illustrations poignantly capture these experiences, offering images of the girl and dog that emphasize the fact that theirs is a mutual rescue. The artist, who like the authors is a Boston resident, provides affectionate, sunlit glimpses of that city—including one featuring a mother duck swimming with her ducklings.
—Publishers Weekly

Renewal of a more poignant sort transpires in the affecting pages of "Rescue & Jessica"... Scott Magoon's colorful digital illustrations are pitch-perfect here: detailed enough to convey a sense of reality, yet softened and stylized in a way that will make the emotional intensity bearable for children ages 5 to 9. Young readers may also be delighted by the tasks that Rescue and dogs like him can perform, from fetching a ringing cellphone and opening the fridge to knowing exactly when his human needs consolation.
—The Wall Street Journal

Based on the real-life story of Rescue and Jessica, this story of courage, adaptation, and a positive attitude to overcoming obstacles is thoroughly inspiring.
—Kendal A. Rautzhan's "Books to Borrow"