Ho'onani: Hula Warrior (Hardcover)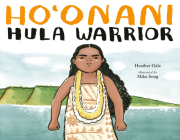 $17.99

Most titles are on our shelves or available within 1-5 days.
Description
---
An empowering celebration of identity, acceptance and Hawaiian culture based on the true story of a young girl in Hawaiʻi who dreams of leading the boys-only hula troupe at her school.

Ho'onani feels in-between. She doesn't see herself as wahine (girl) OR kane (boy). She's happy to be in the middle. But not everyone sees it that way.

When Ho'onani finds out that there will be a school performance of a traditional kane hula chant, she wants to be part of it. But can a girl really lead the all-male troupe? Ho'onani has to try . . .

Based on a true story, Ho'onani: Hula Warrior is a celebration of Hawaiian culture and an empowering story of a girl who learns to lead and learns to accept who she really is--and in doing so, gains the respect of all those around her.

Ho'onani's story first appeared in the documentary A Place in the Middle by filmmakers Dean Hamer and Joe Wilson.
About the Author
---
HEATHER GALE is a former orthotist and author originally from New Zealand. Heather loves stories of all kinds, but she especially loves those that feature real people like Ho'onani. She fell in love with the art of storytelling during long car rides, making up stories to go with the scenes flashing by. Heather has two sons and now lives in Toronto with her husband and their two dogs.

MIKA SONG grew up in Manila, Philippines, and Honolulu, Hawaii, before moving to New York to study at Pratt Institute. She studied animation and worked as an animator before getting into children's books. In 2015, she received the Portfolio Award at the Society of Children's Book Writers and Illustrators Winter Conference in NYC. An author and illustrator, Mika loves stories about sweetly funny outsiders, and recently illustrated the book Harry and Clare's Amazing Staycation and wrote and illustrated Picnic with Oliver. Mika lives in Brooklyn with her husband and daughter.
Praise For…
---
One of the New York Public Library's Best Books for Kids 2019
One of the Ontario Library Association's 2019 Top Ten Titles
Featured on the 2020 Rainbow Book List
Featured on the 2020 Rise: A Feminist Book Project List

PRAISE FOR Ho'onani: Hula Warrior:

"Heather Gale's prose is buttressed by Mika Song's lovely drawings to make this a wonderfully feel-good story about tradition and difference." —New York Times

"[A] rousing tale of a child overcoming obstacles . . . it also deftly weaves in elements of culture and gender in simple language that kids can understand." —Today.com

"Boldly outlined watercolor and ink artwork . . . convey visual information with strength that suggests Ho'onani's own. And Gale grounds the child's experience, based on a true story, in Hawaiian traditions, modeling showing 'every person the same unconditional acceptance and respect'." —STARRED REVIEW, Publishers Weekly

"Ho'onani's courage to be true to herself and her place in the middle is empowering. Hawaiian words are intermixed, and Song's illustrations are full of emotion and determination." —Kirkus Reviews

"An entertaining, illuminating, and empowering read, Ho'onani: Hula Warrior will make a welcome addition to classrooms, libraries, and story times!" —CM Magazine

"This is a book that delicately tackles a difficult but important subject with sensitivity and without fuss at an age-appropriate level." —Resource Links

"Song's watercolor and ink illustrations have a gentle Saturday morning cartoon appeal and give Ho'onani a strong, purposeful appeal." —The Bulletin of the Center for Children's Books