This Place Called Notre Dame (Hardcover)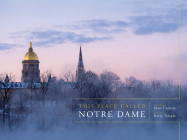 $45.00

Most titles are on our shelves or available within 1-5 days.
Description
---
Matt Cashore, a 1994 graduate of Notre Dame, has been photographing the university for over twenty years, and was named the 2016 University Photographer of the Year by the University Photographers Association of America. Kerry Temple is a 1974 Notre Dame graduate who has been writing about the university for forty years and serves as the editor of Notre Dame Magazine. Cashore and Temple have combined their talents in a magnificent new coffee-table book, This Place Called Notre Dame. Cashore's photographs beautifully document campus life, capturing the quads, the architecture, the academics, football festivities, the faith life, and student fun of contemporary Notre Dame. Now these images have been collected into one volume conveying the beauty, character, and spirit of the university. Accompanying Cashore's photographs is text by Kerry Temple, an astute university observer and writer whose articles and essays have chronicled the nature, traditions, and growth of Notre Dame over the past four decades. The result of this collaboration is a volume that speaks of Notre Dame with insight, artistry, and affection that will be treasured and enjoyed by students, alumni, faculty, staff, and all who have experienced and love the university.
About the Author
---
Matt Cashore is senior university photographer at the University of Notre Dame. His photographs have been published in The Chapels of Notre Dame and Notre Dame's Happy Returns, both published by the University of Notre Dame Press.Kerry Temple is the editor of Notre Dame Magazine and the author of Celebrating Notre Dame.