Holiday Recommendations 2022
(Click on any book cover to order)
Art/Architecture/Photography
Great Women Painters by Editors of Phaidon. This sumptuous survey of over 300 women painters and their work spanning almost five centuries is a groundbreaking book that reveals a richer and more varied telling of the story of painting. Featuring more than 300 artists from around the world, it includes both well-known women painters from history and today's most exciting rising stars. A welcome companion to the publisher's Great Women Artists.
Helen Frankenthaler: Late Works, 1988-2009. Exploring late works on paper from the great Color Field pioneer, this oversized volume features approximately 50 plates and archival images dating from 1988 to 2009. Inspired by the exhibition curated by Douglas Dreishpoon, Director of the Helen Frankenthaler Catalogue Raisonné, the book expands on the original exhibition to include a wider range of works from this prolific period in Frankenthaler's career.
Julia Morgan: An Intimate Biography of the Trailblazing Architect by Victoria Kastner. This new illustrated biography, first published last Spring, quickly sold out and was unavailable for several months. It features over 150 archival images and full-color photographs that underscore Julia Morgan's reputation as both a pioneering architect and a captivating individual.
Ruth Asawa: All Is Possible by Ruth Asawa. This stunning volume is a companion to the exhibit of Asawa's work at the David Zwirner gallery in New York last year. Organized by Helen Molesworth, this book records and expands upon the show, offering new insight from writers and curators with a selection of 64 works from Asawa's spectacular oeuvre, Revealing rarely seen work alongside her iconic looped-wire sculptures,
You Kn
ow Exactly What You Have to Do: The Third Collection of All Over Coffee by Paul Madonna. The final volume of All Over Coffee presents some of the most notable never-before-collected pieces from the weekly comic strip series. Originally published in the San Francisco Chronicle, this timeless work, which includes collaborations with many prize-winning authors, is now collected for the first time into a new gorgeous hardcover edition.
Biography/Memoir
Din
ners with Ruth: A Memoir on the Power of Friendships by Nina Totenberg. NPR's longtime legal affairs correspondent chronicles a memorable 50- year friendship with Supreme Court Justice Ruth Bader Ginsberg, and also details personal successes, struggles, and other life-affirming relationships that speak to the enduring joy and power of friendship.
Fe
els Like Home: A Song for the Sonoran Borderlands by Linda Ronstadt. The beloved singer recounts her coming of age in the world between Tucson and the Rio Sonora region of northern Mexico, presented through stories, photographs, and recipes. Growing up the granddaughter of Mexican immigrants, Ronstadt brings to life the marvelous flavors and indomitable people on both sides of what was once a porous border whose denizens were happy to exchange recipes and gather around campfires to sing the ballads that shaped Ronstadt's musical heritage.
Th
e Light We Carry: Overcoming in Uncertain Times by Michelle Obama. In an inspiring follow-up to her memoir Becoming, the former First Lady shares practical wisdom and powerful strategies for staying hopeful and balanced in today's highly uncertain world. Obama blends powerful stories and profound advice that will ignite conversation, The Light We Carry inspires readers to examine their own lives, identify their sources of gladness, and connect meaningfully in a turbulent world.
The Revolutionary: Samuel Adams by Stacy Schiff. The Pulitzer Prize winning author and historian delivers a masterful biography of an essential Founding Father, illuminating Adams' transformation from aimless son of a well-off family to tireless, eloquent radical who mobilized the colonies and led an astonishing campaign of civil resistance that led to the American Revolution. Schiff sheds revelatory light on an elusive but worthy leader.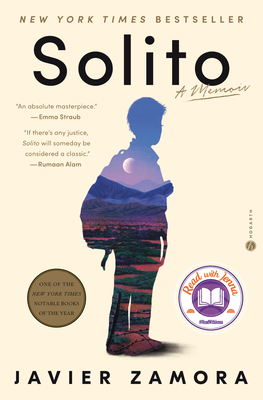 Solito: A Memoir by Javier Zamora. Salvadoran poet and activist Zamora saw his father flee El Salvador when he was one and saw his mother follow suit when he was five. Both 'migrations' were caused by U.S.-funded Salvadoran Civil War and led to his own migration - a 3,000-mile journey from his small town in El Salvador, through Guatemala and Mexico, and across the U.S. border. A harrowing trip under any circumstances, but this one was made more extraordinary because he was only nine years old at the time. A heroic journey that underscores the bravery and spirit of migrants forced to flee their homeland.
Cooking/Food
Dinner i
n One:Exceptional & Easy One-Pan Meals by Melissa Clark. The staff reporter for The New York Times Food section and author of Dinner in French brings her home cook's expertise and no-fuss approach to the world of one-pot/pan cooking. With nearly all of the 100 recipes being made in under an hour, the streamlined steps ensure you are in and out of the kitchen without using a multitude of pans or spending more time than you need to on dinner.
Gateau: T
he Surprising Simplicity of French Cakes by Aleksandra Crapanzano. A James Beard-winning writer and dessert columnist for The Wall Street Journal shares the secrets of the cakes Parisians bake at home, from the simplest yogurt cakes to a deceptively easy bûche de Noël, from yuzu madeleines to boozy flourless chocolate confections.
Mas
a: Techniques, Recipes, and Reflections on a Timeless Staple by Jorge Gaviria. Brimming with history and reflections from masa authorities, Masa reveals the beauty and longstanding traditions behind this elemental staple. In addition to teaching how to make masa from dried corn kernel to fully realized dish, this book also shows cooks how to use masa in 50 base recipes for tortillas, pozole, tamales, and more. Includes full color photographs by Graydon Herriott.
Smitten Kitchen Keepers: New Classics for Your Forever Files by Deb Perelman. With her third cookbook, food blogger extraordinaire Perelman has delivered a collection of 100 essential meals you'll want to prepare again and again. These "keeper"recipes are also designed to make shopping easier, preparation more practical and enjoyable, and food more reliably delicious for the home cook.
Tanya H
olland's California Soul: Recipes from a Culinary Journey West by Tanya Holland. Through more than 80 seasonally inspired recipes, this cookbook showcases modern soul food from the acclaimed chef of Brown Sugar Kitchen. Holland's inventive cuisine is showcased in recipes influenced by the historical migration of African American families. Holland also shines a spotlight on 15 contemporary Black Californian foodmakers--farmers, coffee roasters, and other talented artisans--whose work helps define California soul food.
What's for Dessert: Simple Recipes for Dessert People by Claire Saffitz. The author of the bestselling Dessert Person returns with 100 recipes for all dessert people--whether you're into impressive-yet-easy molten lava cakes, comforting rice pudding, or decadent chestnut brownies. In this all-new collection, Saffitz shares recipes for icebox cakes, pies, cobblers, custards, cookies and more, all crafted to be as streamlined as possible.
Essays / Stories

Desolation
Peak: Collected Writings by Jack Kerouac, edited by Charles Shuttleworth. The centerpiece of this collection is the Desolation Journal that Kerouac kept in 1956 while he was serving as a fire lookout for the US Forest Service in Washington's North Cascades. While he wrote about the experience in other works, including The Dharma Bums, his journal reveals the depth of his poverty, the extremity of his mood swings, and the ongoing arguments with himself over the future direction of his life, his writing, and faith. Kerouac fans take note.
Inciting Joy by Ross Gay. In this new collection of essays, Ross Gay prompts readers to find joy in their daily experiences, the small moments in life, and notably the times when we care for others. Gay's thoughtful explorations of his own experiences (gardening, skateboarding, basketball) are the framework for his ideas on compassion, sharing, and community. Written in his easy meandering and conversational style, it's a gorgeous and provocative must-read.
Life
Ceremony: Stories by Sayaka Murata. In these stories, Murata portrays an almost mundane normalcy, punctuated by her straightforward writing style. Normal… except for one aspect of life experienced by her characters. Typically, that one aspect is a DOOZY! To us. To the characters that inhabit these worlds, it's all part of their normalcy. Exploring our relationships with friends, family, and food these stories are intriguing, unsettling, and will get under your skin.
Li
beration Day by George Saunders. Booker Prize winner Saunders - labeled the "best short-story writer in English" by Time - has produced his first collection of short stories since Tenth of December. He explores ideas of power, ethics, justice, and what it means to live in a community in nine stories that make a case for viewing the world with generosity and attention.

Noveli
st As a Vocation by Haruki Murakami. A charming, idiosyncratic look at writing, creativity, and the author's own novels. In this engaging book, the famously reclusive writer shares with readers what he thinks about being a novelist; his thoughts on the role of the novel in our society; his own origins as a writer; and his musings on the sparks of creativity that inspire other writers, artists, and musicians.
The Search for the Genuine: Nonfiction, 1970-2015 by Jim Harrison. The bon vivant Harrison, who died in 2017, considered himself foremost a poet, but throughout his decades-long career, he also regularly penned short nonfiction observances on a range of subjects, including (but not limited to): wine, cooking & eating; hunting, fishing & the joys of nature; books, writing & the literary life. Many of these delightful pieces are collected for the first time in this highly entertaining volume. It's a must-have collection for Harrison fans, and a nice introduction to his oeuvre for new readers.
Fiction
A Da
ngerous Business by Jane Smiley. The versatile Pulitzer Prize-winning author offers up a rollicking murder mystery set in Gold Rush California, as two determined prostitutes investigate the murders of young women. Rich with historical detail and memorable characters, Smiley imagines life in a lawless town on the fringes of the Wild West, where danger - especially for women - is always lurking.
Dem
on Copperhead by Barbabra Kingsolver. Indie bookstore favorite Kingsolver channels David Copperfield in a coming-of-age story told in the singular, witty voice of a boy growing up in southwest Virginia. That's Appalachia, in case you didn't know. And Demon Copperhead isn't his real name, neither. But that's what this story is about: the boy growing up, family, or lack thereof, and all that entails. Really good storytelling from Kingsolver as always, and perhaps her most enjoyable novel yet.
Lar
k Ascending by Silas House. In this departure from his normal setting of Appalachia, House takes readers instead to the dystopian near future of Maine and Ireland. It's a world struggling for survival in a world on fire literally from climate change and figuratively from human fundamentalism. Main character Lark's journey is one of loss, survival, and despair but ends hopeful with themes of family and resilience. House writes with a strong sense of place in this engaging, powerful tale, with an added bonus of one of the best dog characters in recent memory.
Less Is L
ost by Andrew Sean Greer. Following up on his Pulitzer Prize-winning novel Less, Greer brings back his appealing, often awkward protagonist Arthur Less. At the book's outset, the gay novelist seems content with his writing career and relationship with Freddy Pelu, but financial and emotional crises find Arthur fleeing his problems on a cross-country journey to raise money. Alas, road trips are not his strong suit, but in Greer's capable hands, Less's series of near and actual disasters prove both hysterically funny and touchingly poignant.
Lesson
s in Chemistry by Bonnie Garmus. Elizabeth Zott is a brilliant and frustrated chemist, navigating the male-dominated science world of the 1960s. Her career is derailed at every turn as she's told time and time again she belongs in the home; until she finds herself suddenly hosting a most unusual TV cooking show. There's a love story, a quirky lovable child, and a whole cast of memorable characters (including one of the best dogs ever) in this sparkling debut.
The Marriage
Portrait by Maggie O'Farrell. Following the ongoing success of her novel Hamnet, O'Farrell takes another confident foray back in time, this time to Florence in the mid 1500s. With brilliant reimagining, she brings to life the world of Renaissance Italy and the House of Medici as she recreates the short and unhappy life of Lucrezia de' Medici. She was married at age 13, made a princess and eventually a Duchess, and died at 16. It's a tragic story, but one beautifully rendered in a time and place known for its sumptuous art and power-hungry deceit.
Fun & Games
The Comedians in Cars Getting Coffee Book by Jerry Seinfeld. This celebration of and behind-the-scenes look at the groundbreaking streaming series is a real kick for fans. What began as a "what-if" idea with no real structure became an Emmy nominated can't-miss hit for comedy buffs. The book is an inventive tribute that details the inspiration and creation of segments, the most unforgettable lines from guests, and some of the most memorable moments from crew members - their account of the show's visit to the Obama White House is especially fascinating.
Happy-Go-Lucky by David Sedaris. Oh my - David Sedaris is at his best in this hysterical, poignant (and at times dark), fabulous collection of new essays that include moving ruminations on his father's death, wonderful stories from recent book tours, and keenly observed pandemic musings. As always, his vulnerability and humanity shine through amidst the laughs, which are many.


Number One Is Walking: My Life in the Movies and Other Diversions by Steve Martin. This witty graphic memoir focuses on the beloved comedian's 40-year movie career, with stories from his most popular films and artwork by New Yorker cartoonist Harry Bliss. He shares anecdotes from the sets of many of his films along with tales of antics, moments of inspiration, and exploits with the likes of Paul McCartney, Diane Keaton, Robin Williams, and Chevy Chase. This is great fun for cinema buffs, comedy aficionados, and, of course, Steve Martin fans.
T
he Puzzler: One Man's Quest to Solve the Most Baffling Puzzles Ever, from Crosswords to Jigsaws to the Meaning of Life by AJ Jacobs. Looking for the perfect gift for a puzzle enthusiast? Problem solved with this hugely entertaining tour of the history and allure of all kinds of puzzles, from crosswords and word games to jigsaws and rebuses - and many more. Jacobs immerses himself in his subject, and he's an engaging guide. Puzzle guru Greg Pliska contributes original conundrums that add to the enjoyment.
Revenge of the Librarians by Tom Gauld. London-based cartoonist and illustrator Gauld creates weekly comic strips for The Guardian and New Scientist. This witty and often laugh-out-loud collection of literary cartoons is an ideal gift for writers (both published and wannabes), readers, book industry professionals, and others. Rather than attempt to describe Gauld's work, we've assembled a small selection of his strips from the book to let you see and judge for yourself - go to mrsdalloways.com/gauld-cartoons.
Gardening
American Roots: Lessons and Inspiration from the Designers Reimagining Our Home Gardens by Nick McCullough, Allison McCullough, and Teresa Woodard. In recent years, bold designers have begun championing an American design aesthetic that embraces regional cultures, plants, and growing conditions. American Roots highlights exceptional home gardens, focused on those who express their talents in highly personal ways. Covering all the regions of the country, the profiles dive into design influences, share the back stories of the gardens and their creators, and include design tips and plant suggestions.
Becoming a Gardener: What Reading and Digging Taught Me About Living by Catie Marron. This is a moving account of one woman's quest to create her own garden, largely inspired by writings on gardening and horticultural topics by a diverse group of authors. Although Marron does offer advice, this is not a traditional how-to guide. Instead, Becoming a Gardener is a blend of memoir and personal reflection about the power of gardening in people's lives. Also included is an annotated list of recommended writers, books, and films related to gardens and gardening, and a monthly to-do calendar.
Terrain: The Houseplant Book: An Insider's Guide to Cultivating and Collecting the Most Sought-After Specimens by Melissa Lowrie and the Terrain Plant Team. Plant experts from Terrain nurseries travel the world in search of the most unusual and interesting houseplants, and in this practical guide, they share their favorite specimens. Readers also will be introduced to some of Terrain's favorite independent growers—passionate plant lovers who are creating new hybrids and bringing back old-school specimens to the market.
Wild: The Naturalistic Garden by Noel Kingsbury. A stunning and comprehensive overview of a new planting approach that is wild and natural by nature, reflecting the global turn towards sustainability and the current zeitgeist in garden design. Featuring over 40 gardens - from a perennial meadow in East Sussex, England to a private, drought-resistant garden in Australia - each garden book is brought to life with beautiful photography and insightful text.
History
American Midnight: The Great War, a Violent Peace, and Democracy's Forgotten Crisis by Adam Hochschild. In American Midnight, the award-winning historian and longtime UC Berkeley lecturer brings alive the horrifying yet inspiring four years following the U.S. entry into the First World War, spotlighting forgotten repression while celebrating an unforgettable set of Americans who strove to fix their fractured country—and showing how their struggles still guide us today.
And There Was Light: Abraham and the American Struggle by Jon Meacham. One of our foremost historical biographers offers a profound look at Lincoln's life, charting how—and why—he confronted secession, threats to democracy, and the tragedy of slavery to expand the possibilities of America. Meacham explores his rise, his self-education, his loves, his bouts of depression, his political failures, his deepening faith, and his persistent conviction that slavery must end. A worthy and essential addition to the Lincoln biographical canon.
Our America: A Photographic History by Ken Burns. The acclaimed documentary filmmaker presents a stunning collection of 200 +black and white photographs chronicling American history from 1839 to 2019. We see America's vast natural beauty as well as its dynamic cities and communities. In addition, there are striking images of war and civil conflict, and of communities drawing together across lines of race and class. The book also contains descriptions and illuminating backstories for every image - a real treasure!
Slouching Towards Utopia: An Economic History of the Twentieth Century by J. Bradford DeLong. Noted economist and UC professor DeLong chronicles a great shift in America from 1870-2010, when invention sprinted forward, doubling our technological capabilities each generation and utterly transforming the economy again and again. Slouching Towards Utopia tells the story of how this unprecedented explosion of material wealth occurred, how it transformed the globe, and why it failed to deliver us to a utopia that many would have expected.
Music/Performing Arts
A Book of Days by Patti Smith. In 2018, without any plan or agenda, Patti Smith posted her first Instagram photo: her hand with the simple message "Hello Everybody!" Smith kept posting - portraits of her kids, her radiator, her boots, and her Abyssinian cat, Cairo. Over time, a coherent story of a life devoted to art took shape, and more than a million followers responded to Smith's aesthetic in images that chart her passions, devotions, obsessions, and whims. With over 365 photographs taking you through a single year, A Book of Days is a new way to experience the expansive mind of the visionary poet, writer, and performer.
Captain of Her Soul: The Life of Marion Davies by Lara Gabrielle. From Marion Davies's humble days in Brooklyn to her rise to fame alongside press baron William Randolph Hearst, the public life story of the film star plays like a modern fairy tale shaped by gossip columnists, fan magazines, biopics, and documentaries. Yet the real Davies was wary of interviews and trusted few with her true life story. In Captain of Her Soul, Oakland film writer Lara Gabrielle pulls back layers of myth to show a complex and fiercely independent woman, ahead of her time, who carved her own path.
Th
e Philosophy of Modern Song by Bob Dylan. The iconic musician (and 2016 Nobel Prize winner) offers a master class on the art and craft of songwriting. The book presents over 60 of Dylan's essays focusing on songs by other artists, spanning from Stephen Foster to Elvis Costello, and in between ranging from Hank Williams to Nina Simone. He analyzes what he calls the trap of easy rhymes, breaks down how the addition of a single syllable can diminish a song, and even explains how bluegrass relates to heavy metal. Complementing the essays are nearly 150 carefully curated photos.
Surrend
er: 40 Songs, One Story by Bono. The artist, activist, and lead singer of U2 takes readers on a candid and self-reflective journey from his early days growing up in Dublin, including the sudden loss of his mother when he was fourteen, to U2's unlikely journey to become one of the world's most influential rock bands, to his more than 25 years of activism dedicated to the fight against AIDS and extreme poverty. Surrender's subtitle, 40 Songs, One Story, is a nod to the book's 40 chapters, which are each named after a U2 song. Bono has also created 40 original drawings which appear throughout the book.
Mystery/Crime
Desert Star by Michael Connelly. This meaty fifth installment of the Renee Ballard/Harry Bosch partnership finds the duo hunting a killer who is Bosch's "white whale"—a man responsible for the murder of an entire family. Ballard's now in charge of the cold case unit at the Robbery-Homicide Division, and she recruits Bosch as an investigator in her new Open-Unsolved Unit. The carrot? He can pursue his white whale using the resources of the LAPD. But another cold case takes precedence, leaving Ballard and Bosch on the hunt for two murderers.
Killers of a Certain Age by Deanna Raybourn. Four elite female assassins recruited decades earlier by a clandestine international organization are just trying to retire in peace, but someone wants them retired permanently. It's bad news for the bad guys, though, because while the fearless foursome may be off the job and a step slower physically, their expertise and cunning is still in fine working order. An entertaining and page-turning revenge thriller.
Suspect by Scott Turow. The dean of the legal thriller loosens his courthouse tie to produce a thoroughly entertaining crime drama featuring Pinky Granum, a free spirited, 30-something woman with an unconventional background. Pinky has found her calling as an investigator for attorney Rik Dudek, whose latest case has him defending the town's female police chief from trumped-up sexual harassment charges. Pinky's investigative tactics are as unconventional as her lifestyle, but she's pretty fearless and smart as hell.
A World of Curiosities by Louise Penny. In his 18th adventure, Armand Gamache faces danger close to home when a young man and woman return to his hometown, Three Pines, after many years. The two were young children when their troubled mother was murdered, and Gamache senses evil with their return. At the same time, the discovery of a mysterious painting bricked up in a house reveals secrets that may threaten the people he loves. Penny, who only gets better, remains a master of suspense who's able to reveal the dark nature of evil and then provide comforting doses of forgiveness and redemption.
Natural World
The Coasts of California by Obi Kaufmann. The author-illustrator of The California Field Atlas and The Forests of California now turns to the 1,200 miles of the Golden State coastline. With hundreds of watercolor maps and illustrations, Kaufmann explores the rhythms of the tides, the lives of sea creatures, the shifting of rocks and sand, and more. At the book's core is an expansive, detailed walk down the California Coastal Trail, including maps of parks along the way--a wealth of knowledge for any coast-lover!
The High Sierra: A Love Story by Kim Stanley Robinson. For everyone who loves the Sierra, this book is a real treat. There is so much variety: geology and "psychogeology" or why the Sierra attracts us so strongly. Important people, thoughts on walking, names on the land, transcendent experiences - it's all here. Packed with maps, gear advice, more than 100 breathtaking photos, and much more. Compulsive reading!
Slow Birding: The Art and Science of Enjoying the Birds in Your Own Backyard by Joan Strassmann. This inspiring guide to the art of slow birding features detailed portraits of individual bird species and the scientists who have discovered and observed them; advice and guidance on what to look for when slow birding to better understand specific bird behaviors; and bird-focused activities. This is a great guide for the birder looking to appreciate the beauty of the birds right in their own backyard.
Poetry
Book of Questions by Pablo Neruda. This unique oversized bilingual volume - designed for children and adults alike - is the first illustrated selection of questions, 70 in all, from Pablo Neruda's original poem The Book of Questions. Holding the wonder and mystery of childhood and the experience and knowing that come with growing up, these questions are by turns lyrical, strange, surreal, spiritual, historical and political. Thanks to illustrations by Chilean artist Paloma Valdivia, Neruda's questions gain a visuality that makes them even more palpable and resonant.
The Hurting Kind by Ada Limon. This is a powerful collection about interconnectedness - between the human and nonhuman, ancestors and ourselves - from our current U.S. Poet Laureate. Limon's poems slip through the seasons, teeming with horses and kingfishers and the gleaming eyes of fish. And they honor parents, stepparents, and grandparents: the sacrifices made, the separate lives lived, the tendernesses extended to a hurting child; the abundance, in retrospect, of having two families.
[To] the Last [Be] Human by Jorie Graham. This gift volume collects four of Pulitzer Prize winner Graham's poetry books - Sea Change, PLACE, fast, and Runaway - into one oversized paperback edition. In the book's introduction, Robert Macfarlane writes "Graham's poems are turned to face our planet's deep-time future, and their shadows are cast by the long light of the will- have-been. But they are made of more durable materials than granite and concrete, they are very far from passive, and their tasks are of record as well as warning…"


Weaving Sundown in a Scarlet Light: Fifty Poems for Fifty Years by Jo Harjo. In this celebratory volume, three-term U.S. Poet Laureate Harjo has selected her best poems from across fifty years, beginning with her early discoveries of her own voice and ending with moving reflections on our contemporary moment. Generous notes on each poem offer insight into Harjo's inimitable poetics as she takes inspiration from Navajo horse songs and jazz, reckons with home and loss, and listens to the natural messengers of the earth.
Woman Without Shame by Sandra Cisneros. In her first poetry collection in 28 years, Cisneros offers a moving volume of songs, elegies, and declarations that chronicle her pilgrimage toward rebirth and the recognition of her prerogative as a woman artist. These bluntly honest and often humorous meditations on memory, desire, and the essential nature of love blaze a path toward self-awareness. Woman Without Shame is the culmination of her search for home—in the Mexico of her ancestors and in her own heart.
Politics
Confidence Man: The Making of Donald Trump and the Breaking of America by Maggie Haberman. New York Times staffer Haberman is part of a team that won a Pulitzer Prize for reporting on the investigations into Donald Trump's connections to Russia. She has a reputation for knowing Trump better than most journalists, dating back to her reporting during the corruption-filled 1970s in New York City. And that's where she spends much of the book - writing about Trump and his coming of financial and political age in that environment. It's a revealing, perceptive chronicle of his complicated rise to power.
Do the Work! An Antiracist Activity Book by W. Kamau Bell & Kate Schatz. This is one of most creative, informative, and - oddly, given its subject - fun books you may ever experience. And experience is the right word - this an activity book like no other. Yes, there are pages to color, hidden pictures to find, and puzzles to solve, but it's all geared to educate about racial injustice and inspiring folks to do more. Seeking concrete and actionable ways to think about race and identity? Do the Work! is chock-full of ideas and inspirations.
Lady Justice: Women, the Law, and the Battle to Save America by Dahlia Lithwick. A foremost legal commentator tells the heroic stories of the women lawyers who fought the racism, sexism, and xenophobia of Donald Trump's presidency--and won. From the likes of acting U.S. attorney general Sally Yates, to Roberta Kaplan suing the neo-Nazis in Charlottesville, and Stacey Abrams fighting to protect the voting rights of millions of Georgians, Lithwick shines a light on brave, committed women standing up to the injustices of the Trump years.
Science
An Immense World: How Animal Senses Reveal the Hidden Realms Around Us by Ed Yong. The Pulitzer Prize–winning science writer for The Atlantic has written a book of dazzling scientific revelations, taking readers literally on a journey of the senses. An Immense World is a field trip of the radically different ways that animals perceive the world that will fill you with wonder and forever alter your perspective, led by a writer who appreciates and communicates the awe of discovery.
The So
ng of the Cell: An Exploration of Medicine and the New Human by Siddhartha Mukherjee. His first book, The Emperor of All Maladies, won the Pulitzer Prize, and his follow-up, The Gene, was a national bestseller. Now Mukherjee tells the story of how scientists discovered cells, began to understand them, and are now using that knowledge to create new humans. The human cell and how it is being manipulated for therapeutic advancement is complex subject matter, and Mukherjee doesn't shirk on the science. But one of his gifts as a writer is his ability to explain complicated things in a straightforward and interesting way.
W
hat If? 2: Additional Serious Scientific Answers to Absurd Hypothetical Questions by Randall Munroe. Science doesn't get any funnier than when Munroe answers strange, weird, and often silly questions with straightforward scientific answers - albeit with tongue stuck firmly in cheek. Planning to ride a fire pole from the Moon back to Earth? The hardest part is sticking the landing. Want to know what would happen if you rode a helicopter blade or jumped on a geyser as it erupted? Okay, if you insist. This sequel is just as offbeat and entertaining as the bestselling original.
Sports
28: A Photographic Tribute to Buster Posey photographed by Brad Mangin, edited by Brian Murphy. Any SF Giants fan knows how much Posey meant to the team, and this celebratory gift volume offers a well-earned salute to the catcher's career. In addition to 150+ photographs from the Giants' official photographer Mangin, there are heartfelt written tributes throughout the book from teammates, managers, and more. Posey himself pens a preface that adds to the enjoyment here.
Field of Play: 60 Years of NFL Photography by Michael Zagaris. A celebration of decades of unparalleled access to the NFL by the acclaimed photojournalist. With 42 Super Bowls and 49 seasons as team photographer for the San Francisco 49ers, Zagaris has a wealth of material to draw on. His intimate portraits convey the nerves, the tension, the pain, and the elation with emotional depth and the clarity of a longtime insider. The gorgeous oversized gift book also features a foreward by Joe Montana.
Five Laterals and a Trombone: Cal, Stanford, and the Wildest Finish in College Football History by Tyler Bridges. The 85th Big Game between Cal and Stanford is still famous for the wackiest finish ever to a college football game, 21 seconds that featured five laterals on the final kickoff and a sprint through the Stanford marching band for the winning touchdown. Journalist Bridges has reconstructed the pivotal moments and resulting lore thanks to hundreds of interviews with all the key figures, including players, coaches, referees, and stadium personnel. It's a real trip down memory lane, especially for Cal faithful.
Path Lit by Lightning: The Life of Jim Thorpe by David Maraniss. The story of one of the world's greatest - and most misunderstood - athletes of any era. Thorpe won gold medals in the decathlon and pentathlon at the 1912 Stockholm Olympics, was an All-American football player at the Carlisle Indian School, in the first class of the Pro Football Hall of Fame, and played major league baseball. He also faced racism, battled alcohol, and often lived under financial duress. Through it all, he refused to give up or give in, as Maraniss masterfully underscores..
Rickey: The Life and Legend of an American Original by Howard Bryant. An illuminating and entertaining biography of one of baseball's most talented and most underappreciated superstars, set against the backdrop of mid-century Oakland, a city in transition that gave rise to scores of Black athletes. The showy Henderson was not universally loved, especially in the press, and his approach to the game didn't always sit well with teammates, but author Bryant makes a compelling case for his greatness.
Other Gifts
Need more ideas? We'd love to help. Write to us: info@mrsdalloways.com, explore Personal Shopping on our website, or call the store (510) 704-8222. We ship anywhere. Advice: SHOP EARLY. Our stock is limited and when it's gone, it's gone.
Gift Certificates are an efficient way to knock out your list and can be purchased in any denomination. We'll send them to your recipient for free. A gift certificate bought today helps Mrs. Dalloway's now and promises leisurely shopping tomorrow. Available online (mrsdalloways.com), by phone, or by email. Shopping local has never been so easy.
We've got everything the gardener in your life needs: gardening tools and gloves, sprouting kits, unique planters and more. For others, we have a wide range of choices: Japanese ceramics, fanciful linen tea towels, botanically-based teas in beautiful tins, divine Bonnie's Jams to spread on your toast and a selection of lacquered serving trays; canvas tote bags, gift bags and pouches in a variety of designs; decorative Arts & Crafts-inspired Motawi tiles, patterned vinyl floor mats; unique pins; cards, puzzles, crosswords, and games for indoor days...all this and so much more!